Open House 2009
Open House June 19th, 2009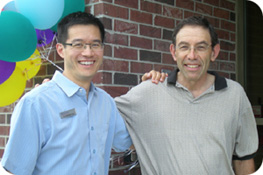 Many hours of planning and creativity made our Open House BBQ a fun and enjoyable way to thank our patients and meet new friends and neighbours. I would like to express my sincere thanks to all the people that made our community event a smashing success.
Sincerely,
Dr. Chris Tsang
Neighbourhood Network for allowing us to partner with them to raise awareness in our community of the value of volunteerism and how it enhances our life experiences.
Our community event coordinator Ashley and our team of professionals here at Dentistry in Aurora Karen, Allana, Sandy, Susie, Bri, and Sonia.
Our patients and volunteers who donated their time and enthusiasm to help make the day enjoyable for all.
Pillar's for donating most of the delicious sausages and frankfurters as part of an ongoing commitment to supporting charitable events.
Oral-B for donating some of the dental prizes for our children's colouring contest and raffle giveaways.
Project consultant Dave McCullough for creating the vision of a leading edge dental office to serve our community.
Marketing director Nick DiPietro for creating the brand of Dentistry In Aurora and inspiring our team to understand ourselves and our patients in order to better serve them.
Coland construction and TriPar construction for exceptionally high standards in creating a building and office with such fine attention to detail.
Rita Valente Designs for listening to our desire to live and work in harmony with nature and translating this into an ergonomic office that is also a work of art.